With so many themes out there to choose from, and many looking very similar, it is a refreshing change to see a theme that is unique in it's designs and that looks downright sexy!  Mo7 by drkapprenticeDesigns is a theme that gives you so much, and then some.  This theme boasts 3 home screens, 7 color choices, 4 opacity levels, 23! icons to access, and hidden today.   You want to know how to get more?  Read more to find out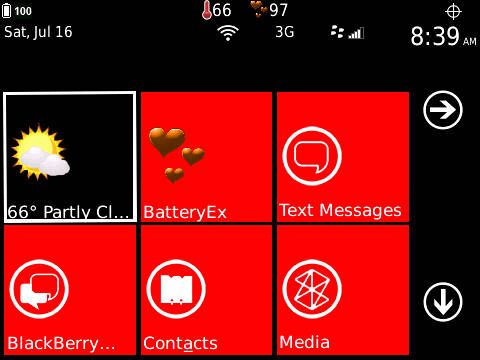 Mo7 is designed to offer you the experience of WinMo7 with a whole lot more to enjoy.  The default screen when you first load up the theme is the 1st of 3 different home screens you can set.   This one here allows for a 6 user defined dock which are apps 1-6 on the application screen.  Date, time, notifications and signal and battery meters are along the top.  The icons are nice and large and very clearly seen.
Follow the bottom arrow pointing down (scroll down) and you will brought to the 2nd home screen which feature 6 more icons including a live contacts tile – the boxes within the tile are animated.   Brilliant design.    This screen also has access to full today screens.  Click one of the four icons and today screen will appear with 5 entries as seen in the bottom ss.  Escape to hide.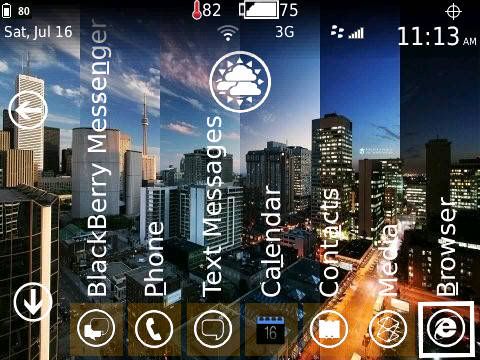 Follow the arrow back up and then follow the arrow to the right (again just scroll in that direction) and the dock will "fold" away ( a one of a kind feature, btw) and take you to the 3r home screen with a 7 icon mini dock with large text description.  These are user defined and are #7-14 on the applications screen.  At first glance, I had thought this screen might be too busy and you wouldn't be able to see the wall paper well.  But in reality, you can.  It's a look that you need to get used to, but with so many minimal themes these days,  this one actually looks kinda cool.  It grows on you and I'm actually liking it – a lot.
Follow the arrow once more – you did want more right?  And the options screen will appear with 7 color choices across the bottom, 4 opacity levels which are the 4 large boxes in the center, and a preview tile on the right so you can see how it looks.   Change it anyway you want to look anyway you want.   A good choice of colors, but I would like to have seen a black or transparent option for lighter or black and white walls.  Maybe dcburke will add that in an update…now that I would love.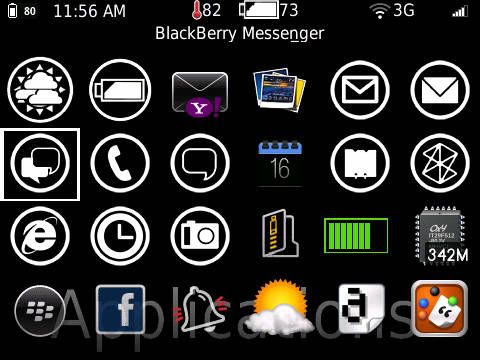 Even the application screen looks cool.  drkapprenticeDESIGNS has used custom white icons with a black back ground which shows up very well.  And someone with tired eyes can attest to, it's  much appreciated.   The focus icon is the same white square used in all 3 docks of the theme.  And the new message notification is a red dot on the top right of the icon.   Menu is transparent black with grey highlight.  Everything has been designed to make the theme flow in every screen you are on.
So many options, so many combinations.  This theme really does give you more.   There is no OCD slot included, so I have used the BerryWeather (app sold separately) home screen wall paper options to show my weather in all these screen shots.  This one is actually one made specifically for this theme made by a very dear and talented friend BlastTyrant.  He has also made a Battery Ex skin to match.   You can get these from the below links:
Oh, there IS more to tell you….short cut keys!  Yes, you can assess even more right from the keyboard.  Media = e,  Clock = q,  Manage connections = j,  BatteryEx = x,   Universal Search = s , SMS = $, and finally  Profiles = f.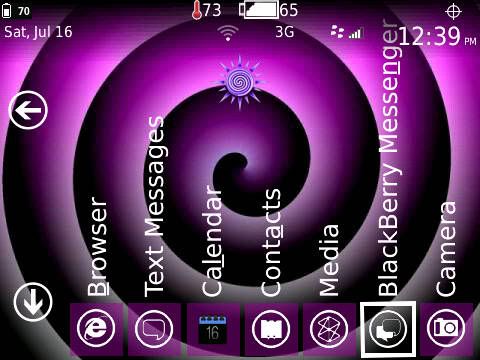 drkapprenticeDESIGNS  was going for simple, professional, and customizable.  I believe he is achieved this.   This really is a theme with MORE.   Very nicely designed.  As for navigation, it runs smooth, no lag, and flows quite well.   With any home screen you decide you like the best, you will have access to all you need.  And if you want more? Well follow the arrows, and more awaits.  You deserve more.  You deserve Mo7.  Get it here on sale for a great price of $1.99.  Available for Bold 9650, 9700, 9780,  Storm 9500, Storm 9530/9530T, Storm2 9550/9520,  and Torch 9800 OS6.   We ALL want More….Mo7 gives it to you.