With a lot of themes these days that are packed full of features, it is great to go back to the beginning and use a theme that is simple, classy and super functional without having to remember so many different key strokes. Origin, is a great theme that provides just that.  With the classic look of most Samgbx themes, Origin provides not a step back, but a spin on the original themes that were available.   Not to mention that it looks great as well.   Origin has a 6 user customizable icon static dock,  and another dock with 6 of the most popular apps.  So you have a total of 12 applications at your finger tips.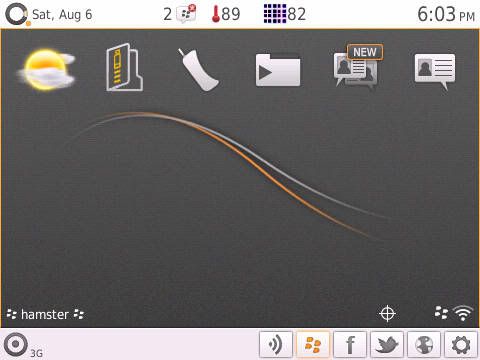 Date, notifications and a custom battery meter are all along a top silver banner.  On the bottom banner there is the custom signal meter and the 6 pre-defined icon dock.  These apps include Profiles,  Blackberry Messenger, Facebook, Twitter, Browser, and Options.  The clock is a hot spot as well as the signal meter which will take you to manage connections.  Your wifi name will also appear just above the bottom banner on the left.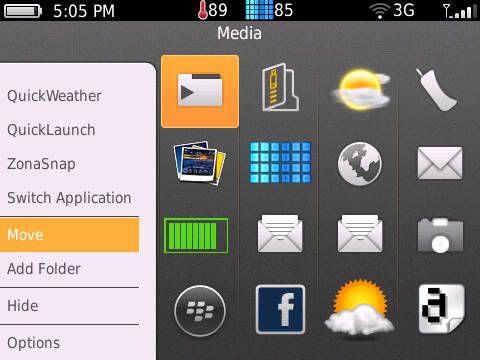 The application screen has custom icons and an orange focus.  This color is seen throughout the theme, including the menu highlight bar as seen.  There are  orange touches on the home screen as well. The background is a dark grey and the orange shows up quite well.  It looks stunning.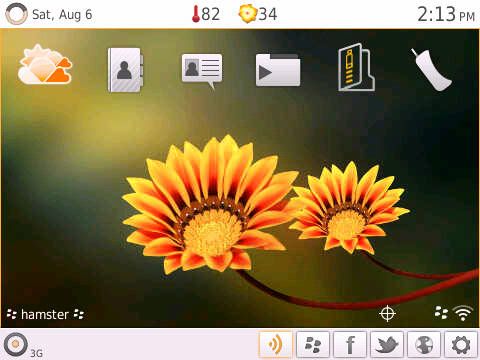 When you want a good looking them that is functional and a step beyond your basic Zen theme, look no further, and get an original theme like Origin.   It has a small file size, and runs very smooth on my phone.   Samgbx  has developed a sharp theme for users that want an easy to use and classy theme.   You can get Origin at the BBE  store for $2.99 and is available for both OS5 and OS6 for most devices.  I highly recommend this theme for its simplicity and beauty.