You know, I'm not quite sure how he does it.  Raypho has a great mind for themes and has yet again released a new theme, this one called Mirth.   This one is pure joy.   I was smiling right along with Mirth when I loaded it because it has not 1, not 2, BUT 3 ocd slots!!  That alone is enough to make you shout out with glee!   There is also a 6 icon hidden dock, so technically you could have 9 of your favorite and most used apps right on your home screen…Read more to find out how Mirth will make your Blackberry smile..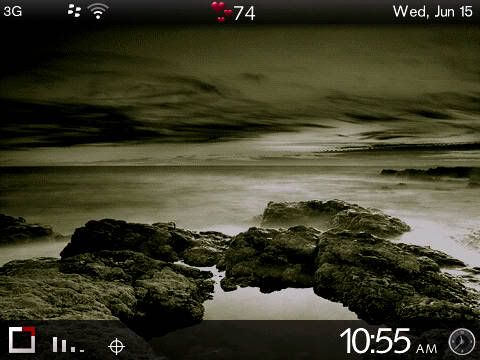 There is so much to show you and tell you about Mirth!  Let's start with that square icon on the bottom left..that my friends is your custom battery meter!  So original and it looks great!  Are you smiling, yet?  It is white when fully charged and will turn red as it discharges.  I happen to love red!  The clock is on the on the bottom right with a clock symbol that adds a great touch.  Semi transparent banners on top and bottom, which can be hidden.  The top holds all your notifications, date and other signal meters.   Ray has chosen a great wall paper for the default screen as well.  Goes awesome with the theme.   Keep smiling, there's more…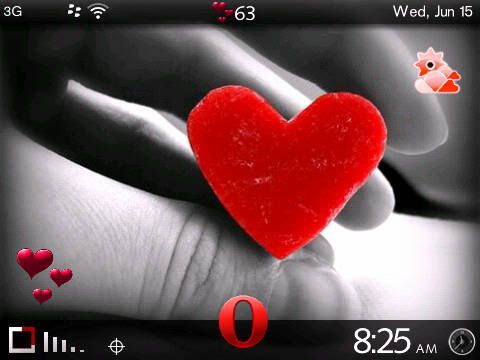 3 ocd slots!  Can you believe it?   Top right which shows with Alt 1.  Bottom left which shows with Alt 2.  Bottom center which shows with Alt 3.   I don't think I have yet to see this feature in a theme, and believe me I have tried a lot. Hit Alt 5 to hide them all.  Or show only the ones you want.   Keep smiling….
So,  here is the dock…6 icons that can be shown with Alt 4 and hidden with Alt 5.  Pretty unique dock I must say.  I've shown my screen here with one of the OCD slots showing.  So you can basically decide how you want it to look.   I'm smiling as I write this, are you?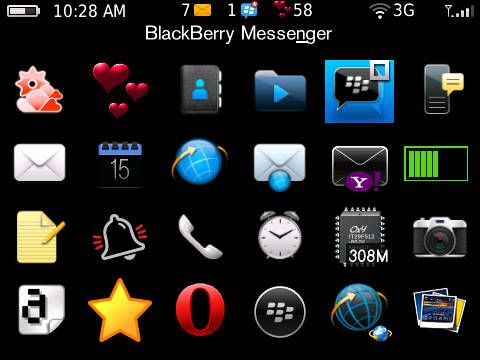 The application screen has a black background that shows all your icons crisp and clear.  The focus is a blue square that is also on the home screen and the same color is used for your highlight bar in your menus.  Ray has really made this theme flow from screen to screen.  You will also notice the new notification icon matches the battery signal square from the home screen.  So nicely tied together.   Now I'm giggling right along with Mirth..
There is one more thing to tell you about Mirth.   Yes, I'm not done, lol.   You can hide the banners,  for even more optimal wall paper viewing!   Simply use Alt – and Alt +.   This theme is so customizable that you will be smiling each time you use it, and may even make you giggle.   Well, it did for me, but I'm a theme junkie so there you have it!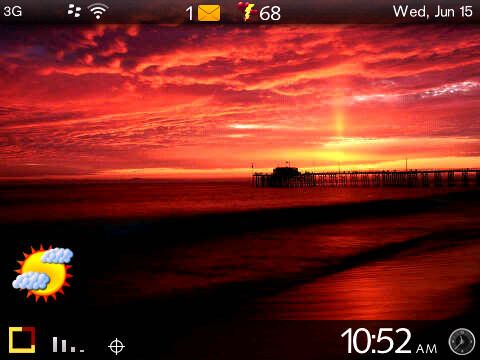 However you choose to use Mirth, I'm sure it will make you happy.  It also has a small file size which for a theme with this many features, is awesome.  I know my BB is smiling at that.  It runs fast, smooth, and navigation is easy.   As usual, Raypho has impressed me  with his latest theme.   My favorite themer has provided me with 3 ocd slots and hideable banner.  Way cool.  Makes me happy.  You won't be laughing if you miss out on this theme! So get it now while it's on sale at the BBE store for a great price of $2.49, and smile!