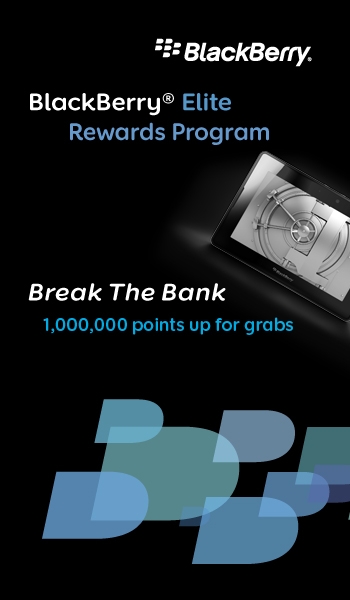 RIM is rolling out "Break the Bank" in accordance to the BlackBerry Elite Program. Users have the chance to earn 1 million reward points that can be cashed in for AMEX gift cards and more. Find out how you can participate now! Read below for complete details.
Don't miss your chance to Break the Bank!

It's time to Break the Bank. We've got 1 million reward points (that's a bank worth breaking) available to be earned between now and June 30th. Earn 500 points and you'll pocket a $25 AMEX gift card. $50 and $75 cards available as well! Get started by registering your sales here and click on "My Incentives" (it's fast and easy).

Earn 100 points for every qualified sale. Earn 50 bonus points when you pass a quiz in the BlackBerry Elite Rewards Program. The quiz can be found on the "My Training" Page. And if you're one of our Top 100 Sales Leaders you'll win a BlackBerry® PlayBook™ tablet.

Please note that it can take a few days to validate sales.

Good luck!
Thanks a million @digitalhomeboy